How To Buy Carpet and Flooring Wisely
Carpet | Pad | Vinyl | Hardwood | Tile | Best Stores
---
Top 10 Best Places To Buy Carpet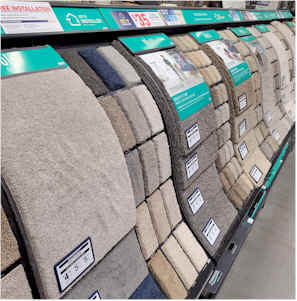 When it comes to buying carpet, it's important to be aware of all the possible places to shop. While many carpet retailers are honest and reputable, there are unfortunately some who use sneaky sales tactics and scams to take advantage of unsuspecting homeowners.
As someone with over four decades of experience in the carpet business, I've seen it all. That's why I believe homeowners deserve a fair and transparent deal when it comes to buying new carpet. My free report rates various carpet retailers, wholesalers, and resellers on a scale from 1 to 5, with five

stars being the best.
I use my 40+ years of hands-on experience in the flooring industry to guide my ratings and help you make wise and informed choices. Please use this free guide to find a suitable carpet and flooring source near you.
1. Locally Owned Carpet Stores
When it comes to replacing your carpet, buying from a locally owned store is the way to go. These retailers offer a great selection of carpet remnants, in-stock rolls, and brand name samples to choose from. They order directly from the manufacturer, ensuring first-quality carpet at fair prices. Plus, they provide excellent customer service, knowledgeable staff, and free measuring and installation. If any issues arise, they will go above and beyond to make sure you are satisfied with your purchase.
However, not all locally owned flooring dealers are trustworthy. To help you find the best options, I have compiled a list of reputable carpet stores that meet my strict requirements for honesty and reliability. Check out my Preferred Carpet Dealer Directory to find recommended carpet stores near you.
2. Shop at Home Carpet Retailers
Shopping for carpet or flooring can be a hassle, but with the rise of shop-at-home services, it's become much more convenient. By having samples brought to your home, you can match colors under optimal lighting conditions and avoid the stress of traveling from store to store.
While the concept is still fairly new, many locally-owned carpet dealers now offer shop-at-home services, providing quality products, knowledgeable salespeople, and reasonable prices. However, it's important to be wary of nationally advertised shop-at-home flooring companies that may sell inferior products, have unreasonably high prices, and use high-pressure sales tactics.
To help you find the best places to buy new carpet and flooring, check out my Preferred Carpet Dealer Directory for reputable locally-owned shop-at-home retailers.
3. Online Carpet and Flooring Retailers
Online retailers for carpets and flooring offer a wide range of products, including hardwoods, ceramic tiles; luxury tiles, and laminate flooring. While they can be a smart choice for cost savings, it's important to do your research and be cautious.
One common issue is poor quality materials, especially if you opt for "seconds" or cabin-grade hardwoods. These can be difficult to install and may have significant amounts of warped, unusable, or damaged product, resulting in up to 25% waste or more.
First-quality hardwoods are more expensive but offer better outcomes. It's also challenging to estimate the amount of usable product you'll receive, which can lead to reordering and additional costs. Shipping costs can also be high, and returning products may incur hefty restocking fees. To avoid these issues, it's crucial to understand the entire buying process and carefully read the fine print.
While some online flooring retailers are reputable, others are not, so it's essential to know who to trust. Additionally, you'll need to arrange for installation or do it yourself. Overall, buying from online flooring wholesalers can save you money, but it's crucial to be informed and cautious to avoid costly mistakes.
Check out my list of Preferred Carpet Dealers to find reputable carpet and flooring stores near you.
4. 1-800 Carpet Wholesalers
Carpet wholesalers offer a convenient way to shop for carpet and flooring by sending small samples through the mail. However, it's important to note that buying discounted carpets from these wholesalers is typically a "sight unseen" purchase, unless you live close enough to visit their warehouse. It's crucial to fully understand the fine print and terms of sale, as there are no refunds on discounted carpets.
While buying from a reputable carpet wholesaler can save you money, it's important to be knowledgeable about the entire carpet buying process, including delivery and return policies. Some 1-800 carpet outlet stores are reputable, while others may not be, so it's up to you to do your research and make an informed decision.
5. Franchised Carpet Retail Chains
Franchised carpet retailers are usually locally-owned businesses that partner with national carpet distributors or co-ops to increase their purchasing power and reduce shipping costs. They often use private labels on their samples to prevent comparison shopping at other local carpet stores and may re-brand their carpets without disclosing the manufacturer.
Obtaining manufacturer specifications from these franchised resellers can be challenging, making it difficult to compare their products and pricing. However, with proper knowledge and negotiation skills, you can still get a fair deal. Some co-ops do not provide installation, so you may need to find a reliable installation crew and pay them separately.
While it may require more effort to schedule and coordinate everything, franchised flooring dealers offer a wide range of quality flooring products and may even have a list of local installers for you to contact. Keep in mind that you may end up paying slightly more when buying from a franchised dealer.
6. Wholesale Clubs
Wholesale Clubs are a great resource for trade professionals and their clients looking for carpet, flooring, and surface suppliers. These clubs are typically franchises that are locally owned and operated, with corporate websites and showrooms featuring knowledgeable staff to assist with material choices. However, access to these showrooms and benefits is limited to trade members, such as builders, contractors, remodelers, installers, interior designers, architects, and real estate professionals, and their clients.

Some popular co-ops include CFM, ProSource, Cascade Pacific Flooring Distributors, The Floor Club, Complete Flooring Source, and Keystone Flooring Products. While some Wholesale Clubs offer a wider range of products for home remodeling, others focus solely on carpet, flooring, and window treatments.

Overall, Wholesale Clubs offer a convenient and cost-effective option for trade professionals and their clients. One of the benefits of working with a Wholesale Club is the opportunity to visit their showroom and work with knowledgeable staff to make informed material choices.

Trade members also benefit from having access to a nice showroom without having to pay for its operation, and they can make a profit from the sale of products to their clients.

Homeowners can save money by buying through a Wholesale Club member, but may need to arrange for qualified installation separately. It's always a good idea to get multiple bids from local sources before making a decision.

See my list of Recommended Dealers to find reputable carpet and flooring stores near you.
7. Carpet Warehouse or Flooring Outlet
For those looking to save money on carpet and willing to do the installation themselves, local carpet outlets and warehouses can be a great option.
These stores offer low prices and have a variety of carpet rolls in stock, catering to homeowners on a budget, landlords, property managers, and DIY enthusiasts. However, it's important to inspect the carpet for defects before purchasing and to carefully review the guarantee. These retailers may offer in-house installation or provide a list of local installers for customers to contact.
Keep in mind that the same type, style, and color of carpet may not be available for future purchases, and there may be noticeable differences in color or style between rolls. While discounted carpets can be a great deal, it's important to remember that there may be reasons why they weren't sold as first-quality goods.
8. Home Improvement Warehouse
Large home improvement retailers like Home Depot and Lowe's are ubiquitous in their advertising and have numerous locations across the country. However, there are several reasons why you may want to avoid shopping at these stores. Firstly, they often use private labels to prevent comparison shopping. Additionally, they outsource their installations to other companies and require payment in-full upfront at the time of purchase. They may also charge a fee to measure your home.
If you encounter a problem with your purchase, they may direct you to contact the installation company or carpet manufacturer, which can take weeks to resolve. In some cases, the store may not take responsibility for your complaint or problem, leaving you with an unsatisfactory product.
9. Buying From a Carpet Installer
If you're looking to save money on carpet installation, consider buying from a local installer. Many installers have connections with local dealers and can order carpet and padding at wholesale prices. Additionally, installers often have leftover materials from larger jobs that they may sell at a discounted price.
Keep in mind that these materials are limited in supply and may not have a manufacturer's warranty. It's important to check references and verify their license and insurance before hiring any contractor. This option may be a great choice for smaller projects or rental properties.
10. Buy Used Carpet from a Private Party

If you're on a tight budget and looking for a way to save money on carpeting, buying used carpet from a private party might be an option. Often, people replace their relatively new carpet simply because they want a different color or style to match their furniture.
You might find these deals in local newspapers or online marketplaces at a very low price. However, keep in mind that you will need to hire someone to install the used carpet, which can be more costly than installing new carpet. Additionally, check the carpet backing for any signs of pet stains, as these are almost impossible to remove. Despite these potential drawbacks, buying used carpet can be a great way to save money on your flooring needs.