How To Buy Carpet and Flooring Wisely
Carpet | Pad | Vinyl | Hardwood | Tile | Best Stores
---
Carpet Measuring
& Room Yardage Chart Guide
Measuring Carpet Yourself?
Perhaps all you care about right now is how to measure your home for carpet yourself to get an idea about how much it might cost. Maybe you want to know which carpet salesperson has the most accurate bid for your job? If you get three estimates, the amount of material they say you need to order may be different on all three.
Homeowners who try to measure carpet often do it wrong because they don't understand a few key aspects about carpet measuring. My Room Yardage Chart is an easy way to get a close estimate or your material needs. All you need is a good tape measure.
There are dozens of smart ways to save big money on new carpet, getting accurate measuring is just one way. I can show you many more ways to save money on new carpet that you won't find on any other website. Visit my sitemap to see all my free unbiased carpet information.
How to Measure for Carpet
This is the question everyone wants to know. Logically, you may be thinking that if you can determine exactly how much carpet you need to buy, then you can get a basic idea about how much you need to spend on new carpet right?
Unless you are only doing one or two rooms, then you should have a professional measure your home before you go out and buy carpet. You don't want to buy too much carpet and you certainly don't want to buy too little.
If you want to know how to measure for carpet yourself, you are going to need more than just a tape measure and a calculator to be successful.
You need to know the how's and why's of carpet installation. I installed carpet for over 30 years, and it takes years of practice to become accurate at measuring carpet. If you measure wrong you stand to lose hundreds or more. How to Measure for Carpet in 4 Simple Steps
Even if you measure every room in your home perfectly, it doesn't mean that you have accurately measured you home for carpet! There are a number critical factors that must be taken into consideration when measuring for carpet:
Important:
The direction of the carpet nap (Nap in All connecting rooms need to lay down the same direction)

Some carpets have a pattern match that must be figured in. (what is the pattern repeat?)

Seams should be located in out of the way areas whenever possible.

Limiting waste - You don't want to buy more carpet than you need.
Room Yardage Chart
Instructions:
Measure your room length and width carefully and make sure you measure all the way into closets and through doorways. Add 3 extra inches to the length and width for trimming purposes. This will give you a close estimate of how many yards of carpet your room requires. To calculate the square footage, just multiply the yardage amount by 9. Always round up.
(10 square yards is the same as 90 square feet. 10 X 9 = 90)
1. Find your room WIDTH (in feet)
2. Find your room LENGTH (in feet)
3. Discover the amount of Square Yards
(click on image to view or print)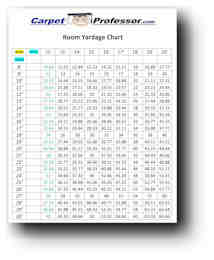 NOTE: You usually have to buy carpet in widths of 12 feet. If you have a room that is 10 feet by 10 feet you will have to buy a rug that is 12 feet by 10 feet. To convert square yards to square feet, multiply SY by 9. ( 12 sy x 9 = 108 sf )
Expect to have some material waste. You usually have to buy carpet in widths of 12 feet. For example, if you have a room that is 10 feet by 10 feet you will have to buy a carpet that is 12 feet wide by 10 feet long. That will create some leftover material waste.
Basic Carpet Prices
Have you checked carpet prices lately? The cost for new carpet has doubled in the past 10 years. Why pay more than you need to! Let me show you over 60 smart and easy ways to save money on carpet. You really can save hundreds, or even thousands on your next carpet purchase. How Much Should I Spend on Carpet?
Basic Carpet Longevity
Many factor come into play when trying to figure out how long a carpet might last in your home. Here are some of the key factors that can affect how long your new carpet will last:
The fiber type and style, tuft twist, density rating, pile height.

How much foot traffic in the home, number of children, pets, teens.

How well it is maintained, regular vacuuming, periodic cleaning.

How well it is installed (properly stretched)

What padding is used, type, thickness and density.
Depending on all these factors, here is a basic guideline for how long you might expect your new carpet to last:
(Typical Cost per Square Yard)
Carpet Pad Labor Total Longevity
$18 yd $3 $4 $25 3 to 7 years
$23 yd $3 $4 $30 6 to 10 years
$28 yd $5 $6 $39 8 to 12 years
$35 yd $5 $6 $46 10 to 14 years
$40 yd $5 $6 $51 12 to 16 years
$50 yd $6 $8 $64 15 to 20 years
Many carpet retailers use a one-price for carpet, pad and installation.
This is the typical cost per square foot for everything.
(Typical Cost per Square Foot)
Carpet Pad & Labor Total Longevity
$3.00 square foot $25 3 to 7 years
$3.35 square foot $30 6 to 10 years
$4.35 square foot $39 8 to 12 years
$5.10 square foot $46 10 to 14 years
$5.65 square foot $51 12 to 16 years
$7.10 square foot $64 15 to 20 years
These are rough estimates and assumes you have low to medium foot traffic.
Padding and labor charges typically increase with the quality of the carpet. You must be sure that the padding is capable to last as long as the carpet.
It is more difficult to install heavier carpets and labor prices will increase accordingly. Berber carpets are typically more expensive to install. Installing carpet stairs usually has an additional charge.
Learn more:
How Much Does New Carpet Cost?